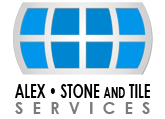 Alex Stone and Tile Services  (818) 302-6237  Quote Form

PROTECTION | MAINTENANCE | CLEANING | SEALING | REFINISHING | RESTORATION | REPAIR
Alex Stone and Tile Services - Blog
Here to serve you through Covid-19 and beyond.
Tile and stone takes time, experience and expertise to understand. Each type of material is different, has a different composition, and needs to be treated very carefully on a case-by-case bases. In general, we think the basic tips for quartz and porcelain maintenance suggested by Kayron Brewer in the Houzz article, Get Quartz and Porcelain Surfaces Super Clean, Houzz April 4, 2012 would likely point people in a useful direction, particularly if one needs suggestions to try to maintain surfaces on their own, or for in-between professional cleanings.
In our experience, if you are going to try to work with stone or tile yourself we suggest that you "try out" the cleaning solution on a very small area, preferably an area that is not too visible in order to test the result before applying it to a larger area.
Many people who want their stone or tile well-maintained will rely on a knowledgeable, professional service with experience. Stone cleaning and restoration, done properly, takes quite a bit of knowledge and experience. Every type of surface and situation is unique, requiring very different treatments and remedies. With porcelain if you know who the manufacturer is it is always a good idea to refer to the manufacturer's suggested cleaning method. With stone surfaces there is so much variation even with the same type of stone, that it requires more of an individualized, case-by-case approach. This is true of quartz as well.
For professional routine stone or tile maintenance, and for more difficult tile and stone cleaning situations, restoration work, and/or repairs, we recommend using a trusted expert for your tile and stone maintenance. Having tile and stone surfaces deep-cleaned on a regular basis by a knowledgeable professional will save you time, money and headaches in the long-run. When done properly, professional tile and stone cleaning will help restore luster to your quartz and porcelain and help keep your surfaces beautiful. In the article, Kayron Brewer offers some really nice pointers, but sums it up well in saying, " it's really about making smart decisions when it comes to your surfaces." We have to agree.
Call us for an estimate to see how we can help make your stone and tile look like new!
Alex Stone and Tile Services  (818) 302-6237
"After almost 20 years of heavy foot traffic in our home, our marble floors were starting to dull and developed spots. We were given several quotes and eventually were advised to replace our marble floors in full. But not Alex! He was positive he can bring our marble back to life, and boy did he ever! "
Lucy S.
"These guys were really easy to work with. We had the cement tile in our kitchen stripped/cleaned and then resealed. From getting the estimate to the workers showing up on time and being very courteous I will defiantly use them again."
Scott B.
I live in an old house with an attractive but poorly-designed fireplace, that has been putting out at least some smoke every time it's been used for over eighty years. I finally got fed up with the awful stains all over the stonework, and called Alex. They not only stripped 99% of the smoke stain off, but created perfect new stains to fill in and make the couple of stones that still looked marred just as good as the other ones (but not brand-new, which would have looked bad by the other old stones). All in less time than they'd estimated. I could not be more pleased with the result – and the friendliness of everyone there.
Douglas G.
"There are many companies who clean and seal stone and tile, but Alex Stone and Tile is the best company I have had the pleasure of using for several years. Their service, expertise, product selection used, attention to detail and customer service are just the very best. While it may appear their prices are a little higher than some others, as the old adage goes, "you get what you pay for"! Their quality is unparalleled. The employees are the hardest working group of people I have ever seen! I would highly recommend this company if you are looking for a really good company to perform your stone and tile maintenance."
Michael P.
"Alex Stone & Tile stripped, stained and sealed 1500 sq feet of Saltillo tile in our Mission Hacienda style home. We bought the house liking Saltillo, but the color was a yellow/pink we didn't like. Alex Stone refinished it to a deep brown that matched our hardwood. They showed up on time, were professional, took care of our furniture and worked safely with masks on and distancing. The results were great. Highly recommended and we'll use again on the outside of the house soon."
Ethan K.
"This crew was incredible. From estimate to clean-up Alex and the guys were professional, knowledgeable and personable. They returned my master bathroom floor and shower to it's original glory and expertly cleaned grout in a guest bathroom for me. The price was amazing compared to the competition. I will be using Alex's services again when necessary. Can't say enough good things about this company. "
Sir B.
"They arrived on time, had a clear understanding of the tasks and were professional throughout. We had a very badly water-stained tile shower surround and a beat up marble floor. They removed the stain and put a finish on the surround. Looks like new. They cleaned and polished the marble floor to the exact finish we were looking for. We could not be more pleased with the work. The price charged was the price quoted. Highly recommend."
Deena K.
"We are extremely pleased with the work done by Alex Stone & Tile Services. Alex gave us a fair bid at a fair price. Anna in the office was so professional in addressing our questions. Alex responded and listened to our concerns. His workers, Bart and other employees, worked diligently to complete the work in the hot sun. Alex made a return trip to answer questions we had. The issue was corrected as promised. They are reliable and true to their word. They are very professional in every way and I am happy to endorse them."
Violet S
ALEX STONE & TILE SERVICES  •  Serving: Los Angeles | San Fernando Valley | Santa Monica | West Los Angeles | Pasadena | South Bay, CA  •  Call Alex!  (818) 302-6237 | QUOTE FORM